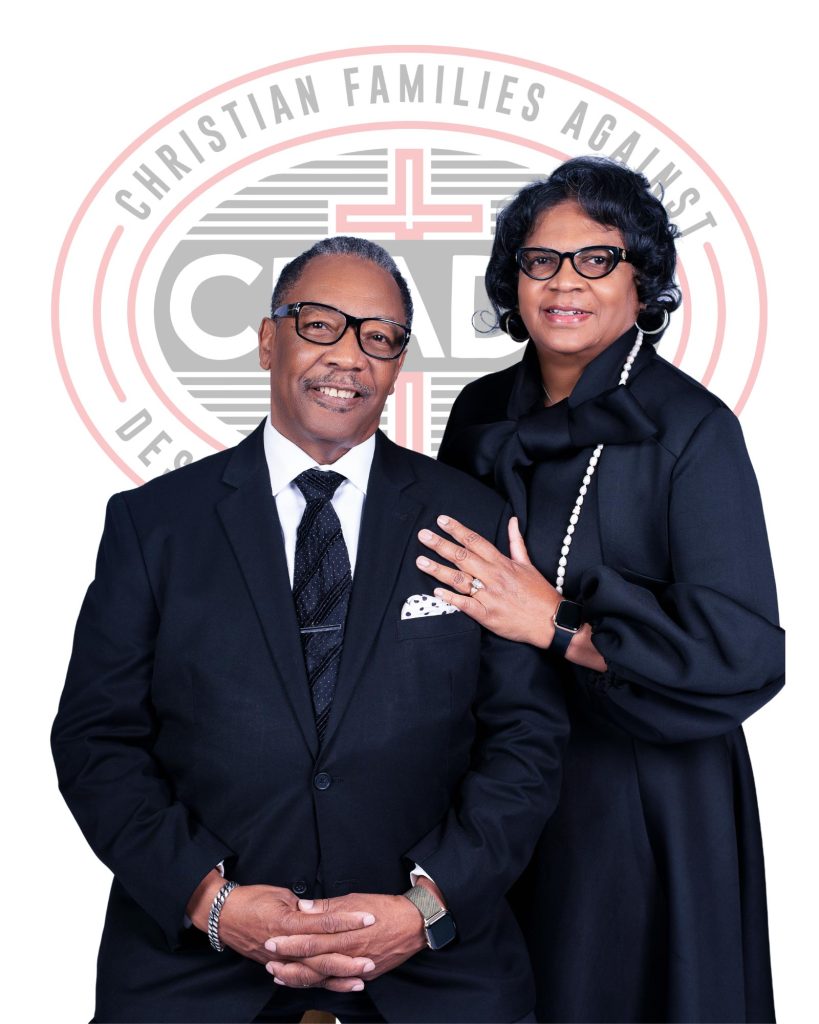 OUR MISSION
Our mission is to influence the building and sustaining of strong families and strong generational heritages by promoting a biblical worldview and God First lifestyle.
ABOUT THE FOUNDER AND PRESIDENT
Apostle Tommy E. Quick is the Senior Pastor and Founder of The Promised Land Church of God in Christ, where he has served for over 29 years. His ministry spans 48 years, and he has successfully pioneered three churches in North and South Carolina and built three edifices for the glory of God. He has been married to Valerie for 37 years; they have 5 children, 11 grandchildren and 4 great grands.
He presently serves as the Chief of Staff, the Superintendent of the SC District, and Chairman of Ordination Committee in the NC3rd Ecclesiastical Jurisdiction COGIC with Bishop Patrick L. Wooden Sr. Apostle Quick can be seen on WLOS every Sunday morning on The Promised Place Broadcast – the most watched Christian Broadcast in Upstate, SC – as well as weekly on the NOW network.
In 2008, to increase home ownership and provide a safe environment for families and their children, he successfully undertook the development of Trinity Gates subdivision a 47-home neighborhood adjoining the Promised Land Church. He also founded Black Boys of Distinction, (now TEAM: Tomorrow's Exemplary & Anointed Men) a unique mentoring program for at-risk boys.
In 2013, he was awarded the Human Rights Award by the Church Women United, Inc. from the United Nations Office. In 2015, he was awarded the South Carolina NAACP Humanitarian of the year award.
Since August 2015, he leads Legacy Christian School where his love for children and vision for excellence can be seen every day. His goal is for Legacy Christian School to be the premiere Christian Preschool and Elementary School in the Upstate.
Apostle Quick has suffered persecution and prosecution for his unwavering faith, uncompromising stance on the Biblical Worldview, and service to mankind. In 2020 he received the vision for Christian Families Against Destructive Decisions (CFADD.org), a Non-profit 501C3 organization. CFADD's mission is to influence the building and sustaining of strong families and strong generational heritages by promoting a Biblical worldview and God-first lifestyle. CFADD is growing and impacting the nation for Christ.
Christian Families Against Destructive Decisions mission is to influence the building and sustaining of strong families and strong generational heritages by promoting a biblical worldview and a God first lifestyle. All of the pain, grief, sorrow and sin in the world is the result of just one wrong decision. Every day we make hundreds of decisions that determine what we say and do. CFADD seeks to educate the public about the benefits and consequences of decisions that affect them and their loved ones, and to provide resources, strategies, and principles that would aid them in making good sound decisions. For no good action can be taken unless it is preceded by a good decision, because each good decision is an investment in a great future.
Christian Families Against Destructive Decisions strives:
To combat the misinformation and ignorance that effects our families

To assure that children have dedicated mothers and fathers to protect, nurture and guide their development toward their adulthood.

To combat all cultural ideologies and/or behavior that disrupts the nuclear family. • To reduce media violence against the family.

To promote equality and justice for all babies conceived in the womb.

To promote abstinence and monogamy after marriage.

To enhance the desirability of marriage and family life.
Only by restoring the biblical foundations of the home, can the church and society flourish. Our journey together to restore the foundations of the families and repair the breaches has just begun. Through CFADD, you will become a part of the revival of biblical family values. Together we will see the heart of the fathers turn to the children and the heart of the children to their fathers and an end to the curse of fatherlessness in the Earth (Malachi 4:6).
Apostle Tommy E. Quick, Founder and President
Christian Families Against Destructive Decisions
The year 2020, was full of unprecedented challenges to the world's health, social and economic systems. For our founder, Apostle Tommy E. Quick, it began with physical and social isolation, as he was dealt a tremendous injustice and went through the greatest trial of his life. During this period God was not silent but spoke very distinctly regarding the need to restore families. Apostle Quick swiftly went to work on the vision God put in his heart and Christian Families Against Destructive Decisions, called CFADD for short was birthed in Spartanburg, South Carolina.
In April, of the same year (2020), the first planning sessions were underway, and the team worked diligently on the administration, branding and structure of the new organization. CFADD quickly launched a website and social media presence, capturing over 1,000 followers in just a month. In September, CFADD was officially established as a non-profit 501 c3.
Since the kickoff event and first CFADD Rally, held on October 13, 2020, in partnership with The Beacon Drivein, CFADD has continued to drive its God given mission. Building upon a great first year, year two has been dedicated to governance, service, and expansion of CFADD programs. The CFADD board & steering committee convened as scheduled and aligned on 3 areas of focus: Reinforcing the governing documents, upgrading our membership portal, and passing the Charity One Audit with a Bronze rating. These were huge steps forward for the organization.
As done in the first year, CFADD blessed several deserving families during the Christmas season as well as participated in the Spartanburg Christmas Parade. CFADD took its mission to the streets with a Prayer Walk in the Crescent Hills community in February and was a participant in the Spring Fling in April where we enhanced our reach and stance within our headquarters community. CFADD also recognized the first CFADD Mother of the Year, which was a nomination-based award that received recommendations of moms of exemplary character and values nationwide. The momentum from these events was instrumental in the success of our first Father's Day Brunch which served over 200 fathers and their families in June.
The CFADD Eagle's Nest Institute premiered two new courses, Personal Family Engagement Specialists (PFES), which aimed to train ministry workers to reach people for Jesus and the mission of CFADD through the CFADD Engage Model and The Biblical Worldview which was facilitated and streamed live to audiences across the country with the purpose of highlighting the need for biblical living amongst a secular society.
Ensuring our chapter leaders are informed and equipped with needed resources to impact their local communities is critical. To further this effort, CFADD held its first Leadership Huddle in July with over 70 leaders and ministry workers in attendance. Work has continued to grow throughout the network as several CFADD chapters introduced CFADD Family Nights, which featured family-centered teaching and programming. Other noteworthy highlights for this year include the first ever CFADD Family Deliverance Service and being featured on Your Carolina with Jack Roper.
The quest to reach children with the mission of CFADD continued this year with Camp CFADD in July and August. We are proud that since it's inception, Camp CFADD has engaged over 60 children with the message of family roles and character building. CFADD launched it's newest program, the Family Success Center, which links families to needed natural and spiritual resources in the Summer of 2022.
CFADD expanded its national reach as well. Our CFADD founder was accompanied by board members to the supreme court in Washington DC to pray as the justices weighed the overturning of Roe v. Wade. Due to our stance on the sanctity of marriage CFADD was invited to sponsor a supreme court amicus. In addition, Apostle Quick, CFADD founder spoke at national conferences including Faith, Family and Freedom in Nashville, TN and the Douglas Leadership Institute conference in Virginia.
We are truly amazed with what the Lord has allowed us to accomplish over the last two years! We aim to see 50,000 families restored as we live out our mission of influencing the building and sustaining of strong families and strong generational heritages by promoting a biblical worldview and God First lifestyle.
Christian Families Against Destructive Decisions relies solely on the generosity of individuals, families, foundations, and businesses for financial support.
The Internal Revenue Service recognizes CFADD as a tax-exempt, 501(c)(3) charitable organization. Donations to CFADD are therefore tax-deductible in accordance with Section 170 of the Internal Revenue Code.